Quick & Easy DIY Holiday Ideas!
I bet you love putting together Holiday Staging or Decorating Ideas just like I do!  Frankly I call everything I do Staging, 
 Smile me.  It is of course in my blood, 
 smile me again! Here are some very quick ideas to add Holiday sunshine to your surroundings.
Of course you can vary them in any way you want. For example replace a star with an angel figure or substitute a quilt for a tablecloth. Have fun making up what I call "take off's" of what I show you below.  I actually get 'giddy' sometimes creating things.  It is a true high feeling when you really get into it. So let your creative juices flow!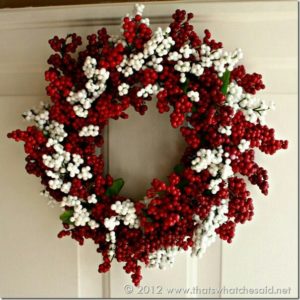 All you need to make this lovely wreath is: a wreath form, berry springs, & hot glue. And you can get all of these things at the Dollar Store. So your investment in Dollars is low.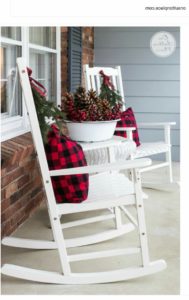 I love  this setting! Create it by tieing small bunches of pine to the backs of the rockers or chairs with plaid red ribbon. For the table you can use a white container or box or an enamelware tub with giant pine cones & faux cranberries.  Then the best part to me is to make pillows out of girls or boys red flannel shirts.  Put a folded bath towel inside the shirt and then button up the shirt. You can tie the arms around back or at the front bottom of the shirt or around the front chest.  You can also tie the excess shirt fabric below the buttons in the front. It looks darling anyway you do it. Of course you could sew them but the way I share is fast and easy!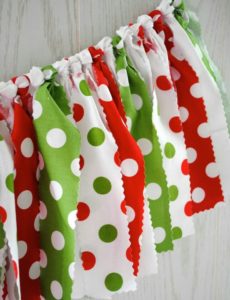 What a fun little curtain! It can be put above the kitchen window or the laundry window or a kids room or just anywhere you want!  You can make it out of 3 inch pieces of cut fabric by tieing each one at the top as above or colored fun dish cloths by tieing the tips on a rope or Rod or you could use cut neckties 
 or the whole tie for a long effect. Really there is no end to having fun with this. Let your creativity FLOW! I did when I thought of  the neckties!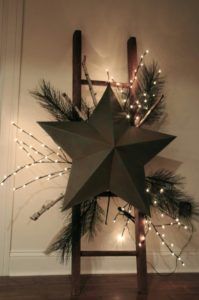 WOW! All it takes is A ladder…a big star from say Good Will or a thrift store or a friend 
 and some real or faux greenery. Add another contrasting natural looking kind of decorative vine. Then attach it to ladder with glue gun and/or Floral wire! Your ladder can be any size or color or made out of whatever you want!  (PS If you don't own a glue gun or yours is really old then this is the time of  year to gift yourself one! Have Fun!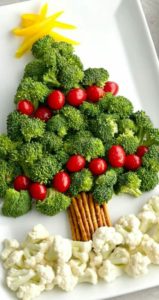 Oh Christmas Tree oh Christmas Tree….Oh how I love this! How clever and cute! You can do this in such a short amount of time at anytime and take it anywhere. Where ever you take it you will be the STAR of the night I promise you!  You can use other vegetables of course but these look pretty great don't they!! And of course just in case you didn't guess already the trunk is made up of pretzels .  
  I smile just looking at it. When I take this to parties I am going to take an extra baggie of goodies so I can keep my tree refreshed and whole most of the evening. Then take the tree at the end of the evening to my refrigerator and then to the food bank for volunteers to enjoy too the next day. They get so excited to see you made it for them! Just a suggestion 
I hope you enjoyed seeing these AND also making one or 2 should you decide to do that.
I cannot say Merry Christmas enough these days! So Merry Christmas and Happy Hanukkah to you all. 
Thank you each for being a part of my blog! And as I always like to say…
Until my next post I send you positive energy, peace and blessings always.
Barb