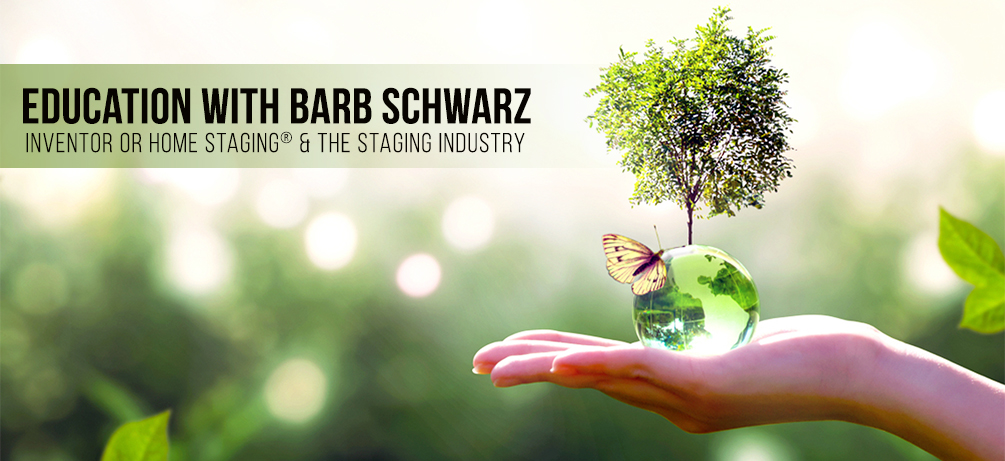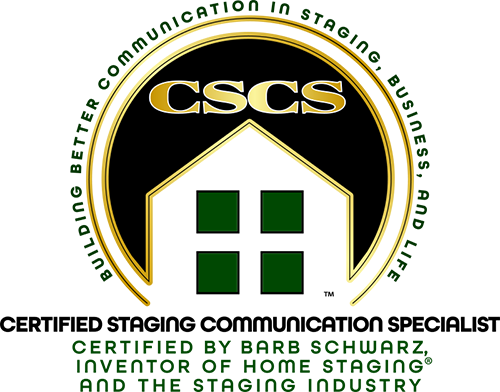 WELCOME!
"Better Communication Builds Better Staging, a Better Business and a Better Life"
I am Excited to Share with You My New Exclusive Home Staging Course:
"The Certified Staging Communication Specialist™ Course,


and The CSCS™ Designation"
As You Graduate It will be My Honor and My Sincere Pleasure as
The Inventor of Home Staging and the Staging Industry to 

Certify You As A 'Staging Communication Specialist'
When I Award You With Your Certified 'CSCS' Designation!
My Certified Staging Communication Specialist Course is built on 2 Main Interdependent Programs
that I Have Originated, Written, and Developed into the Course I will teach you, both programs are included in the Course.
COURSE 'TUITION AND REGISTRATION' INFO AT BOTTOM OF THIS PAGE
THE FOLLOWING 2 PROGRAMS ARE INCLUDED IN BARB'S CERTIFIED STAGING COMMUNICATION COURSE:
TO LEARN ABOUT PROGRAM 1 & 2, CLICK THE LINKS BELOW:

1- Barbs' Certified Staging Communication Specialist Business Relations Program
2- Barb's CSCS Empowering Business & Life Skill Tools Program and Workshop
As You Graduate from my CSCS Course, You are Gifted, at no additional charge, a Barb Schwarz Network Directory Page Profile on Barbschwarz.com for a Year from your Graduation Date.
You may ask me, Barb, why have you chosen to originate, develop, build and present a Communication course? And to also give a Staging Communication Designation to You as A Professional Stager?'
First, I share that I am extremely passionate about this topic as I have studied Communication all my life and I have developed tools, ideas, and communication skills that really work! The proof that it works is with all my clients through the years (I will share more on that ahead). Secondly, it is because I see a real need in Our/The Staging Industry that I invented! Why? Because Stagers share with me their concerns, their challenges, what issues come up with Sellers, with other Stagers, with RE Agents, RE Companies, Companies they may work for, Staging Companies that they may own, even perhaps sometime a Home Staging Association they belong to, and the list goes on! All of these challenges, issues problems some call them, and more are truly rooted in one process and that is Communication. You can tell me  about an issue, a concern, a worry, a success, a business, anything working with Sellers, everything working with RE Agents, other Stagers, Suppliers, Family Members, and on and on; and over and over again it is based in and upon just one thing! One Main, Crucial, Important, Critical Thing! and my friends, it is called Communication!
Your marketing is all about your Communication. Staging is Communication! (I have a famous Staging saying I created about that very thing years ago which works to this very day for its true!) Acquiring business is about your Communication. How the seller responds to you is about your Communication. When they do not hire you, it is about your Communication. When they do not like how you Staged their house it is about your Communication! How much you charge is about your communication with yourself first, and then with the seller. Whether working with a RE Agent is successful or not is because of your Communication! Every issue, challenge, conversation that works and those that don't are for one main reason! It is all because of YOUR COMMUNICATION!
In todays' world clients want to work with Stagers and RE Agents that know how to Communicate! How to Communicate in positive, productive, educational and truthful ways! Frankly, you cannot tell me about any success or anything that didn't go right that is not about Communication. It is all about Communication with ourselves, and Communication with others.
Because of all I hear and have heard from Stagers, RE Agents, Sellers, Buyers and what I know from teaching so many, many students, what I have studied, observed, and tested with Sellers constantly in the Staging and Real Estate Industries and what I see today, it all comes down to this: It is all about Communication. And I have yet to meet a Professional Stager or a Professional RE Agent who could not improve their Communication for the better.

Now you know why I originated, developed, built and I am presenting a new course for you to learn how to Communicate better! To Communicate better in any situation and challenge in your business and in your life!
It is the Certified Staging Communication Specialist Course with the CSCS™ Designation, certified by me for you!
As The Inventor of Home Staging and the Staging Industry I am very blessed to have taught over 1,300,000 Students to date in over 35,750 hours of classroom creative content that I have personally developed, built and taught through the years in over 3,730 training seminars I have given. I humbly share that no one on earth has taught as much Home Staging educational content as I have. And I look forward to teaching, sharing, educating, and empowering you to become a Certified Staging Communication Specialist™.
My experiences include but truly are not limited to:
Teaching school, becoming a top selling Real Estate Broker in the Seattle, WA area, inventing Home Staging, building the first Staging business in the World, creating and building the Staging Industry, becoming an award winning professional speaker rated in the top 250 speakers in the world, training professional speakers through The National Speakers Association, writing and publishing best-selling Real Estate and Home Staging books, writing educational Home Staging and Real Estate programs, creating Home Staging designations, building and running the very first Staging educational company with very large websites I built for 20 years, founding and building for 20 years the first Home Staging association which I created internationally with over 50 plus chapters in North America and 3 affiliate member countries in Europe, professionally speaking all over the world, intensely studying, observing and documenting the behavior and communication with thousands of Sellers, Buyers, RE Agents, and Home Stagers for over 50 years.
Based upon my own research, experiences, and focused studies I created a Communication program to use in my own business and life. I put it to work as I talked and worked with clients, agents, Stagers, students, friends, family, everyone really, because I knew and know that Communication and presentation is so very important and crucial in all that I do! And of course, it should be crucial and very important for you. I have learned this from my many experiences which include and span the topics of invention, business, speaking, teaching, education, writing, health, finance, children, challenges, life, and more over the years!
I listed some of my experiences above because every area of my life has taught me so very much! I have come to believe in being a student of life and I sometimes call it Life School. My experiences and everything listed above will benefit you as you use what I have learned which I built my model of Home Staging itself upon, my Communication program from, and all the other careers and facets of my life as well!

Now, Below Just a Few of the Many Benefits for YOU ….
Learn and Know how Seller, Buyers, RE Agents and Home Stagers THINK!
Learn and Know what they Really Are SAYING!
Learn and Know what they call Home Staging OBJECTIONS and how to Solve Them!
Learn and Know How to Have and Create successful ANSWERS, and How to COMMUNICATE the ANSWERS to Sellers!
Learn what to say and how to COMMUNICATE with Sellers, RE Agents and Home Stagers to EDUCATE them
Learn and Know the WAYS in which people LEARN! 
Learn and Know the Important STEPS OF SERVICE that need to be done for and with Sellers and Clients
Learn and Know how to COMMUNICATE and keep professional CONTROL of the Process with clients from the very beginning forward
Know how to create, write, present, COMMUNICATE Home Staging PRESENTATIONS
Learn how to create, write, present and COMMUNICATE Home Staging and RE educational programs
Learn how to write, present, SPEAK and COMMUNICATE in presentations to RE Offices, Agents, and Conferences
Learn and Know More in BUILDING A SUCCESSFUL HOME STAGING BUSINESS!
Learn How to Tap into Your INNER INTELLIGENCE for Staging and life! This is about Creative Communication too!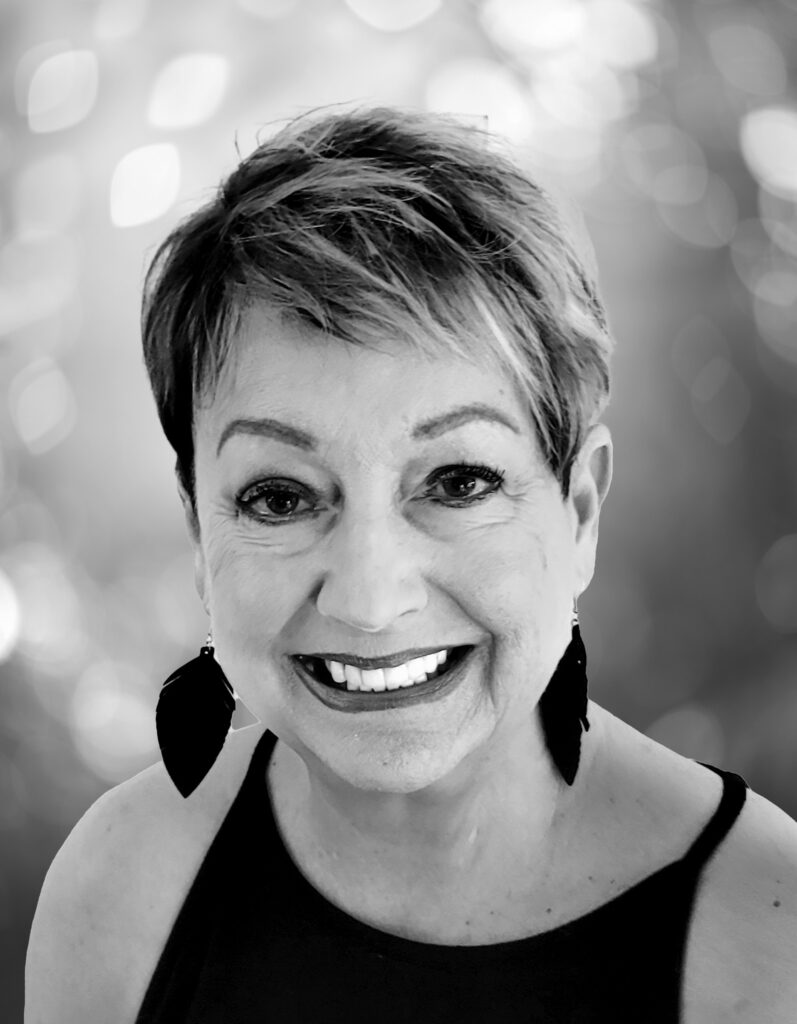 I love to Teach. It is a very important part of my purpose and my mission to Stage the World, and to Stage the World now together with YOU. It is why I have been teaching my whole life!
Therefore, it is my joy to share with you the education I have personally originated, created, developed and built throughout my entire life. I know without a doubt that creativity is a gift we have been given. It is one of the greatest gifts we have as human beings! And using this marvelous tool I invented Home Staging! I then Invented the Home Staging Industry and worked hard by myself to build the Home Staging Industry until finally others joined me many years later. The education that I teach I have built for over 50 Years.
You can enroll in my courses right now which I am personally teaching.
My 2 course programs I created are next for you to read. I wish for you to have discoveries and to create ideas in practical and forward-thinking AH-HA's ways I call them, for your business and life throughout our times together.
I look forward to you joining me soon in the 2 Programs of my Course:
The Certified Staging Communication Specialist™ Course
The Certified Staging Communication Specialist™ Course and The CSCS™ Designation
are Trademarks of Barb Schwarz,  All rights reserved.

Program and Attendance Information For You
There are 2 Course Programs I have Originated and Developed that I am Teaching in My 'Certified Staging Communication Specialist' Course. 
Each of my 2 Programs is in and of itself a Course and yet they are interdependent upon each other.  I will be personally teaching both Programs for You in and as I Teach and Present a One Day Course (both Programs in one day).  At certain times I will also offer 2 half-day CSCS Programs that make up the 1 Day CSCS Course.  This is for your convenience should it work better for you and for certain time zones around the world (One Program per half-day session to make up My CSCS Course).  Attending, Participating, and Completing the 2 Programs in My CSCS Course in their ACTUAL Class Times is a Requirement to Graduate from My CSCS Course and to Earn The CSCS Designation whether You chose a One Day or a 2 Day Half Day Format.  The Programs must be taken in order as Program 1 and Program 2.  No exceptions.
As You Enroll in My Course, whether You Register for My One Day Course Format or the 2 Half Day Format Course, each includes both of My 2 Programs for You automatically.
As The Inventor of Home Staging, The Staging Industry and the Original Builder of The Home Staging Industry, it will be My Honor to Personally Certify You as a CSCS Home Stager who has earned the CSCS Designation when You Graduate from My 'Certified Staging Communication Specialist' Course.
As You Graduate from my CSCS Course, You will be Gifted, at no additional charge to You, a Barb Schwarz Network Directory Page Profile on Barbschwarz.com for a Year from your Graduation Date.
As You Register for My Course apply the Important Complementary Savings I am Sharing With You using code BARB2022.
 CLICK BELOW FOR INFORMATION ABOUT EACH OF THE 2 PROGRAMS INCLUDED IN BARBS' ONE DAY OR 2 HALF-DAY COURSE WITH YOU
Program 1- Barbs' CSCS™ Business Relations Program
Program 2- Barb's CSCS™ Empowering Business & Life Skill Tools Program & Workshop
click here to invest & register for barb's cscs™ course here
The CSCS Course Tuition is $595 Dollars.
This includes the 2 Programs of Barb's CSCS Course.
Your Complimentary Savings is $100 Dollars. 
And Now For Barb's  Amazing CSCS Course Your Tuition is only: 
$495
Be sure to Enter Your Savings Code of Barb2022 in the Registration Savings Code area.
You will Be So Happy You Became a CSCS Home Stager
And Thank You for Your Enrollment!