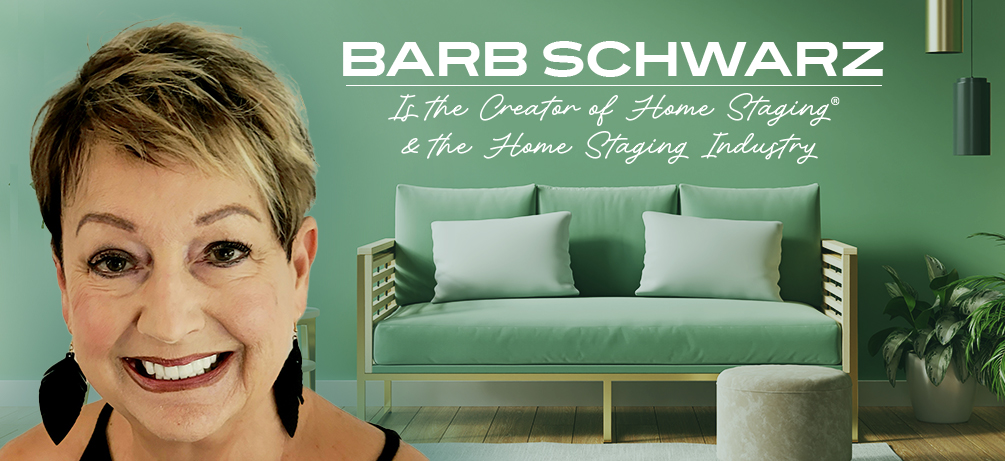 Barb Schwarz has Educated Realtors®, Home Stagers, and the Public on Home Staging since the early 70's.
Barb is the Creator, Inventor and True Visionary who came up with the Staging Concept. She has built the Staging Industry from day one before any others had thought of it.
There was no Staging concept in the Real Estate Industry at all until she came up with the Home Staging Concept.
Barb Invented the Home Staging Concept and industry when she entered the world of Real Estate as an Agent in Bellevue, WA in the early 1972.
She quickly saw and realized the need sellers have of preparing their homes for sale.
Her background in the theater in musicals and off Broadway plays gave her the idea of setting the scene and setting the Stage® in houses for buyers to see properties in the best way.
This is how she came up with her concepts and called it Home Staging.
Barb has frequently said that her invention of Home Staging was a gift from God. In fact Barb was actually called to list a House on her Birthday and that Became the Actual Day she Invented Home Staging. To Barb it was another Sign that this was a Gift to her when she invented the Ideas on her Birthday Day!
Her focus, ideas, vision, and creativity in this area became her mission and to this very day her passion grows more every-day.
Her mission is to help create a better world through better home environments through the magic of Home Staging.
During Barb's real estate career she personally Staged and Sold over 7,000 homes in the greater Seattle area.
Now Barb has personally trained and taught over one Million, Three Hundred Thousand people in her live Trainings and classes since 1985.
This year Barb marks her 37th anniversary year as a Professional Speaker.
She is a 'Certified Speaking Professional' designated by and awarded to Barb by The National Speakers Association in 1990.
Barb is rated in the top 50 Most Influential Women in Real Estate Around the World by The Real Estate Network.
Barb Schwarz pioneered and created both the "Staging To Sell" and "Staging To Live"® concepts.
She traveled the United States, Canada, North America and Europe extensively from 1985 to today spreading Her vision and mission of Home Staging to millions through her live Trainings, Seminars, best-selling Books, and her award winning DVD's.
SHE BELIEVED SHE COULD, SO SHE DID!
Barb Schwarz Accomplishments Include:
The Inventor of Home Staging
Creator and the Original Lifetime Builder of The Staged Homes Concept
Creator and the Original Lifetime Builder of the Home Staging Industry
Creator, Founder and the Original 20 year Builder of StagedHomes.com
Creator, Founder and the Original 20 Year Builder of The International Association of Home Staging Professionals, IAHSP
Creator, Founder and Lifetime Builder of World Wide Staging Service Week, WWSSW
Creator, Founder and the Original 20 Year Builder of The Accredited Staging Professional, ASP, Course and The ASP Master, Course
Creator, Founder and the Original 20 Year Builder of The ASP and ASPM Courses and Designations
The Lifetime Achievement Award was Awarded to Barb Schwarz by The Seattle King County Association of Realtors® for Inventing Home Staging
Creator of The CAREERBook®
Creator, Founder and the 20 Year Original Builder of The Staging University
Founder of The Staging Shopping Center
Rated as a Premier Top Producer as a Professional Real Estate Broker during her Real Estate Career
Keynote Speaker, Seminar Leader, Trainer, Visionary, Inventor, Author, Coach, and Consultant.
Premier Guest speaker at The National Association of REALTORS® National Conventions throughout many years
Instructor of the Year by The Seattle King County Association of REALTORS® for the year 2006
Because and when Barb introduced her Home Staging Concept and Invention to the United States Real Estate Industry it changed and Continues to Change THE REAL ESTATE INDUSTRY IN TOTAL and the Way that RE is listed and sold and how it is practiced in the USA, Canada, Europe, and now around the world today.
Barb holds the Federally registered trademark for The Creator of Home Staging®.
Throughout the Years Barb Schwarz has Frequently been Featured on NBCs' Good Morning America, ABCs' 20-20 Television Show, Highlighted in Many Authors RE Books
Her Best Selling Books are to Date: Staging the World, Building A Successful Home Staging Business, How To List and Sell Residential Real Estate Successfully, Staging To Sell, Home Staging, If You Wear Out Your Body Where Will You Live, and Speaking of Success
Worldwide Staging Day

Barb's Personal Information
Barb grew up in Kansas in her earlier years.
She graduated from The University of Washington with degrees in Education, Music and Design.
Barb taught school for several years before opening her decorating business, which then led her to become a Real Estate Broker.
It is In Real Estate where she Invented, Created and Developed Her Concept of Staging in 1972. Barb then went on To Create and be the Original Builder of The Staging Industry in 1999.
After many successful years as a Real Estate Broker using her Staging Invention, Concept and Her many ideas she became a Full Time Professional Speaker and Trainer to help educate the world about Home Staging in 1985. Since then the rest is and continues to be history to this very day throughout the World.
Barb has been married for over 38 years to Kirk Bohrer.
Kirk has worked side by side with Barb throughout her career. She always says he has been and still is the wind beneath her wings.
Barb has a darling special needs daughter whom she loves so very much.
She adores and learns so much from her. When Barb is not Staging her favorite hobby is gardening She loves Staging her Garden as well. In every part of her life Barb always Stages® everything around her.
There is no way Barb could stop Staging after Inventing Home Staging and creating the Concept that has changed the Real Estate Industry forever. She also loves to write, create and develop new ideas constantly. Barb loves also to shop for items for the home and to recommend them to others for Staging. Barb lives for continuing to help Professional Home Stagers and Home Staging Associations throughout the world who seek her help.
Barb and Her Husband currently Live and Work in Hawaii in The Kailua Kona area.