EDUCATION WITH BARB SCHWARZ
The Inventor of Home Staging® and The Staging Industry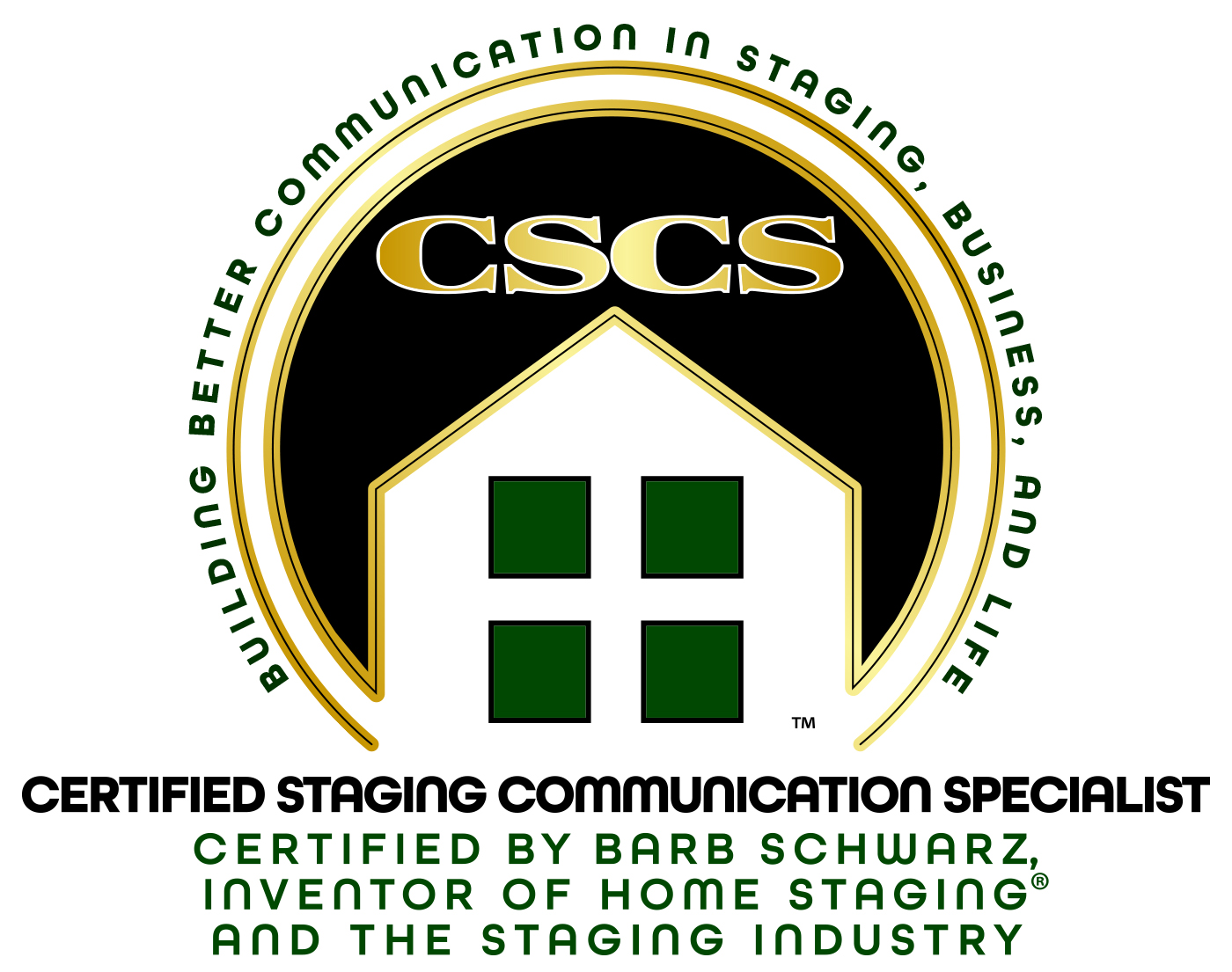 THE CERTIFIED STAGING COMMUNICATION SPECIALIST®

COURSE

COURSE 'TUITION AND REGISTRATION' INFO AT BOTTOM OF THIS PAGE
Choose your learning style: Recorded courses for ultimate flexibility or
live sessions held throughout the year. Graduate on your schedule!

PROGRAM 1:
Barb's Certified Staging Communications Specialist™
Business Relations Power Program
As I have learned throughout my life, I know that there are Major Keys to Communicating More Effectively in All Relationships including Business and in ones' personal life. Communicating more effectively leads to having a more productive and successful Staging Business, and to Living a Happier Life. Program 1 provides an Important Foundation in countless ways to do that.
Throughout My life and Career, I have made a Conscious Decision to Truly Observe and study People. To really Observe People through their words, responses, and their communication in expressing themselves. To observe their behaviors as well through their emotions, wants, needs and their actions in their lives. And to do so through the process of Selling and Buying a Home that they experienced. I am talking about thousands of people whom I had the pleasure of working with as Buyers and Sellers! And as Real Estate Agents and Professional Home Stagers.
But in addition to Sellers and Buyers, RE Agents and Home Stagers I am also talking about Inspectors, Appraisers, Bankers, Escrow officers, Attorneys, and other related professionals also involved in the process of Selling and Buying Homes. In doing so I observed and then intensely processed what I observed. From that process I Learned, Created and Built New Ways of Communication.
An Important Part of Better Communication I feel brings as well, a better way to think and work which also means a better way to communicate with every single person including ourselves. So Yes, we must add other components to how we communicate! They bring a better way to Communication as they entail How You Communicate in Your manner of speaking with others, in Your timing structure, how You say what You say, what Your body language says, Your reply to people, how and whether You are coming from the offense or the defense, what Your inner thoughts are before, during, and after You speak with someone else, and much more. Yes, these are very important components as to how we communicate!
It is All important!
I think it is important that I share with You that I sincerely and constantly Tested all of what I share above for over 12 years with Real People as my Real Clients and the Real Estate Agents I worked with in the multiple listing association too.
This led me to Better Communication Methods and Styles of Communication every day. It became the model of How I worked and work to this very day. No one else in Staging has invested 50 years to know what I have learned in this way.
People as Clients began to hire me more and more because of How I communicated with them. God know that My Communication Program I built worked so well that I had not one seller turn me down from my presentations. Not one! So, my business grew and grew and grew so that I became one of the very top Producers In the Seattle, WA area! And it will work when You put it to work for You too!
This is How to make Your Staging Client relationships better. How to make Staging Better. How to secure more business and how to lead a better life. And it is all through Better Communication.
Maybe You may think that You are the Greatest Stager in the World. That is fine, but should You NOT be able to Communicate with the seller to Change their carpet whether it is old or new, to take down the old flocked wall paper, to work as a team together, to build their trust in You to do whatever it is You ask them to do, then You have a Ways to Grow to be The Greatest Stager in the World.
I also ask You, when did you ask Yourself last about any of the below and more…
Why didn't YOU Get the Business?
Why they Went with another Stager instead of YOU?
Why Didn 't they do what YOU wanted them to do?
I know it can be hard sometimes to think that it might have had to do with and been because of Communication. However, Communication truly is the Big Answer to many of the Why's! And I have found with all my many years in Communicating with Clients, Sellers, Agents, etc. it almost always comes down to Communication. And remember Communication does involve many things. And we will talk about all those things!
As The Inventor of Home Staging and The Staging Industry My 50 years of Experience in Home Staging has Taught Me So Very Much!
Therefore, I personally feel that not only is this my Mission, but it is My Responsibility to Teach and Share My Knowledge with You.

YOU CAN Communicate Better when YOU learn HOW TO.
We all can communicate better! And that My Friends Is why I am here for YOU! Graduates I have taught do tell me that I truly developed a better way to Communicate. A better way to work with people. My Communication Program works for everyone who truly applies it!
Therefore, below are just Some of the Major Topics and Subjects I will be Covering and Teaching You in this Program of My Course:
*The History of My Communication Program, How I Developed it*The Number One Factor in Great Communication*The Challenge You Actually Carry around with You Every Day*It is ALL About You!*The Very Best Way to Build and Keep Your Credibility with Clients
*THE CAREERBook® Part 1 :
How I Created the Concept and Tool
What Is it
Why It Works!
How It Works
(CAREERBook® Part 2 is in program 2)
*The Communication Mistakes People Constantly Make
*CSCS Communication:
What Is It
Why I Created It
The Difference in It (from common communication)
Why It Works
How To Communicate from The Beginning with Clients & Anyone
Why Sellers Love It
How This Communication keeps You on the Offense, not the Defense
How to Bring Up & Successfully Communicate Re Difficult Situations
Such as Animals, Smells, Bed Wetter's, Religious Objects, Huge Trucks,
RV's, Yard Challenges, Kids Stuff in/outside, Filthy Houses,
New carpet-wrong color, old carpet, wall coverings,
Nude paintings, arguments between owners, etc. etc.
Achieve More Success with RE Agents
How to Make It a part of Your work & life
Why Your Vocabulary Is SO Important!
Why Practice IS A MUST and the How To
*The Crucial Keys to CSCS Better Communication
*The Self-Observation CSCS Skills I Originated, Developed & Teach,
How & Why
*What Do I Mean when I say It's About The Reply
*The Importance of What I Call A Communication Foundation
*My Staging Client Relations Communication Success Steps
*As Inventor of Home Staging, the Industry, Builder of My Business
My Defined Staging Strategies
My Honest, Integral Staging Principles
My Proven Staging Concepts
*My Own Successful Professional Speaker Program
My Important Guidelines
My Best Powerful Techniques
My Successful Ideas No Matter the topic
*The 3 Things You Always Have Control Over
*Your Purpose, Passion, and Vision
*My 10 Top Crucial Keys for You and Your Business
*And more….
As You Graduate from my CSCS Course, You are Gifted, at no additional charge, a Barb Schwarz Network Directory Page Profile on Barbschwarz.com for a Year from your Graduation Date.

It is impossible to emphasize too much just how important Communication is! It is a huge part of Everything You Do in Becoming and Being a True Professional Home Stager!
It Affects and Determines what and how Your Business Relationships are.
And it Effects how much Business and the quality of Business that You have.
We must talk more about Communication here of course as it is always intertwined in and a HUGE crucial part of Staging and Real Estate!
It is in Your every Business thought, choice, step, action that You make, take and do, and it is in every seller or agent relationship You make through Home Staging.
Also Remember that Houses communicate too. I know You know that. Houses speak volumes! You get a feeling when You walk in the door and Your mind is saying a whole lot to You! It is talking and telling You whether the house will sell the way it looks or not! And it is already telling You Staging Ideas of how to Stage it! It is the truth. Staging is a Communication tool! I knew that when I invented Home Staging after Staging the Very First House way back 50 years ago and counting. Therefore, one of My Barbs Communication Staging Sayings is:
"Staging is The REAL Communication Tool to sell Every House in Any Market, Every Time

©

"

As we cover the above it is all such an important crucial part of Your creating success in Your Business. And as I think about everything that You and I do in Home Staging I must tell You that Communication with Yourself First and Your clients is where the Rubber meets the road. I say that as it all begins and ends with Communication.
That is why I felt and feel it was and is time to have a Staging Designation in Communication! And I wanted to be the one to Certify You in That Designation as The Inventor and Creator of Home Staging and The Staging Industry. I am so excited to have You be with me in my Course and for You to earn Your CSCS
tm
Designation. I can Hardly wait until then and I hope You feel that way too!
Think about it. Communication REALLY Impacts and Determines where You are going and How You get there!
I know that GREAT COMMUNICATION Is a Must In Business! In fact, it is IMPERATIVE!
I have also Originated and Developed a Business and Life Skills Power Program for You. It has Answers for many challenges and situations that You might find Yourself in. It is a How-To Program that I Created for You and Me. You will learn new concepts and steps to really benefit from every day. In Your Business and In Your Life!
When You apply them they will become a very important part of Your World!
Now, Onward to Program Number 2.