EDUCATION WITH BARB SCHWARZ
The Inventor of Home Staging® and The Staging Industry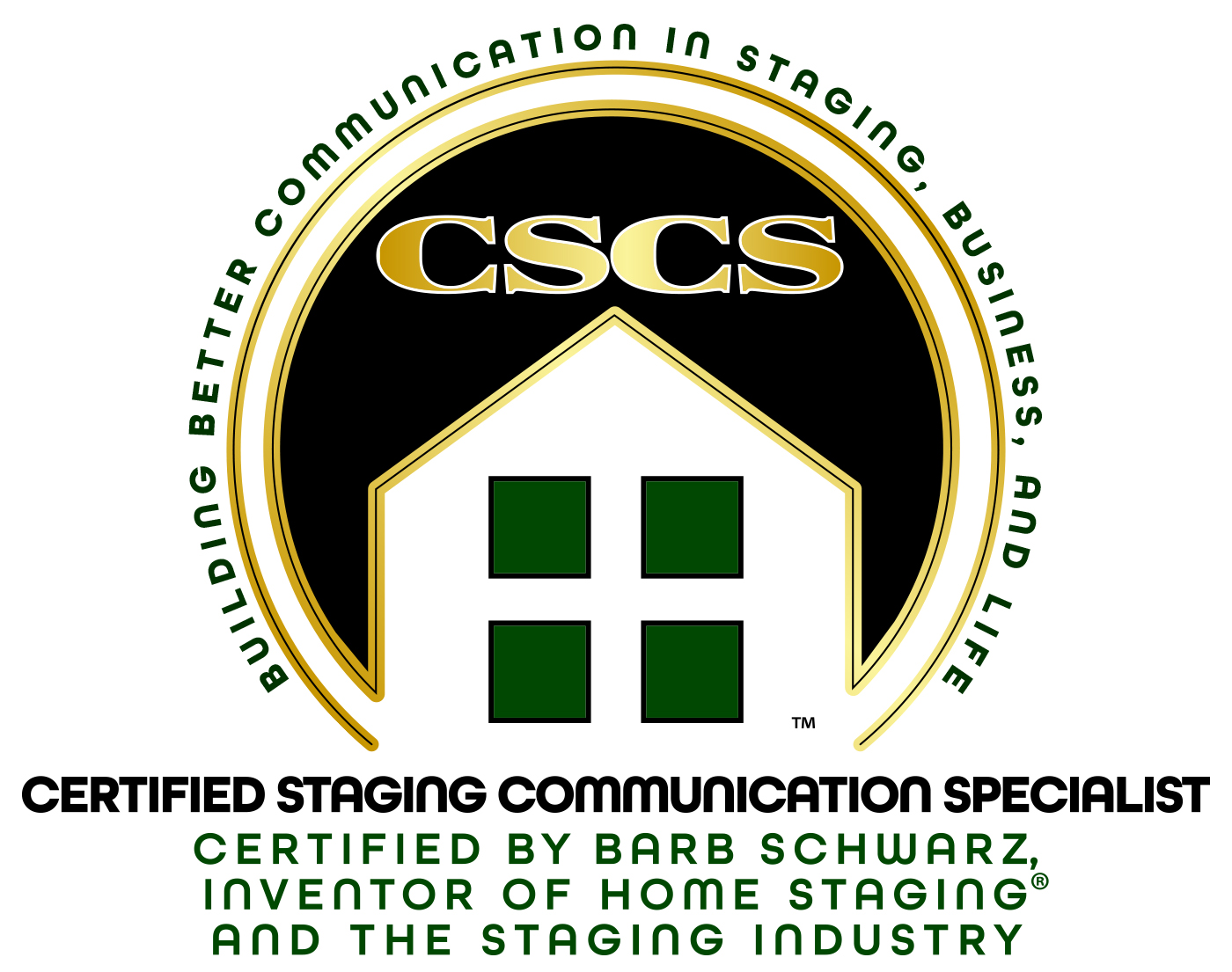 THE CERTIFIED STAGING COMMUNICATION SPECIALIST®

COURSE

COURSE 'TUITION AND REGISTRATION' INFO AT BOTTOM OF THIS PAGE
Choose your learning style: Recorded courses for ultimate flexibility
or live sessions held throughout the year. Graduate on your schedule!
Barb's Certified Staging Communication Specialist Empowering Business
and Life Skill Tools Program and Workshop
"Better Communication Builds Better Staging, A Better Business, and A Better Life!"
We can see a world at times that can seem to be upside down with all that is going on such as Pandemics, Wars, World Economic Challenges, etc. etc. But it not just out there' because there are Challenges that show their faces to us personally too. And they can appear at any moment. You may feel that when some things arise that You do not want to just let them merely happen to You. Any of us can certainly feel that way.
Yet I believe we all desire to live our lives in a way that no matter what takes place that we can work through it. We can leave the drama at the door and move forward with Creative, Healthy, Productive Ideas to live and work in Positive Happy Ways.
I ask You 3 Important questions about You:
How are You feeling?
What do You want?
What do You need?
Please write down Your answers to the above questions. Be honest and candid with Yourself. This is very important for You and us all to do. It is part of the Continuing Discovery process about Yourself.
And throughout our lives it is good to ask these questions of oneself from time to time. Sometimes we may display behavior that makes even us say: 'What was I thinking?'
'Why did I do that?' 'Or, that is not like me!'

Our work together in this program of Communication is to look at and to learn tools to help us to Communicate better with ourselves as well as others in our Business as well as with those in our Lives.
Also, Whether You are just Beginning a Staging Business, or You have been Staging and running Your Business for 10 Years or more I ask You these important questions:
What kind of Business do You Really Have?
What means the Most to You in Your Business?
What Is Working for You?
What is Not Working for You?
What kind of Business do You Really Want?
I am so looking forward to sharing and Teaching Powerful Skills and Tools I have Developed and Use in my own Business and my Own Life with You too. As I shared when you read the first information on my site regarding my New Staging Communication Course that I wrote that I believe in being a student of life. And I call life many times Life School. And in Life School I include in it our Businesses as well as every and all parts of our Lives for how could we not do that.
They are what I call Business and Life Skill Tools and I will share and Teach them so You can truly apply them in Your Business and Life Every Day. I include but do not limit them to the Following Topics and Tools:
*THE CAREERBook® Part 2
How to Create it
What to Put in it
What to NOT Put in it
How to Market Yourself Using The CAREERBook®
How to Market Your Staging Business with this Magical Tool
How to Use The CAREERBook® Correctly
*3 Kinds of Common Communication
*But Which Kind and Type of Communication Works Best
*What is it, It's Characteristics and Its' Benefits
*Attitude and Your Communication
*What are the 3 Top Destructive Attitudes
*What are the 3 Best Constructive Attitudes
*What are the 3 Ultimate Empowering Attitudes
*The Procrastination Circle goes Round and Round
*What are The Causes and Real Reasons for Procrastination
*How To Stay Out of The Procrastinatorium
*Barb's Commitment and Accountability Program
*Barb's 6 Manifestation Steps to Create What You Truly Want
*How to Tap into Your Inner Intelligence Anytime You Want
*Profound Truths About People, Business and Life
*The Skills and Tools That Matter Most For a Great Life
*Q & A Workshop W/Barb: Communication, Staging, Business & Life
*Who YOU Really Are
and More……
As You Graduate from my CSCS Course, You are Gifted, at no additional charge, a Barb Schwarz Network Directory Page Profile on Barbschwarz.com for a Year from your Graduation Date.

Also, as we experience together the workshop part of our class in this program we will brainstorm as a group sometimes and work individually as well. Please know that together in Class Discussions I ask us all to always be positive for the greatest results for all.
Please remember that in Business and in Life as we talk about Tools and Skills that Words in Communications Really Matter! Just think about the difference between the words love and hate and each of their Meanings.
What matters to You the most in Your Business and in Your Life? Over ones' life a persons' list is important. And it can and may change through time.
Many things really do matter. For example: style matters, replies matter, information matters, education matters, service matters, caring matters, knowledge matters, listening matters, responses matter, business matters, peoples issues matter, challenges matter, concerns matter, peoples' views matter, agreements matter, Staging matters, being paid matters, having polices matter, giving directions matter, explaining things matter, feed-back matters, Love matters, Your family matters, Your community matters, and how houses look matters!
What do you personally add to the above list? For there really is NO end to what each person thinks or feels that matters! Therefore, the list goes on!
And I state here, for it is important to me that You know, that to me, YOU MATTER!
In fact, Everything You do Matters, whether You realize it or not.
But something I ask You to always Remember about what matters most for You I believe is this:
"What Matters the Most for You is the Communication that You Have with You!"
Day by day, month by month and year by year.
Why?
For it determines moment by moment what You think, feel, say, and do in every moment of Your Journey in Your Life! And if that does not tell just how important Communication is, I sincerely do not know what will.
Communication in every way is Crucial to the Life You Want to Live and the Business You Want to Have every single Day. And this is Why I Wrote, Brought, and Offer My Course to You!
I so look forward to My Time Together in Class With You!
Thank you,
~Barb
The Certified Staging Communication Specialist ™ Course and The CSCS ™ Designation
are Trademarks of Barb Schwarz, All rights reserved.