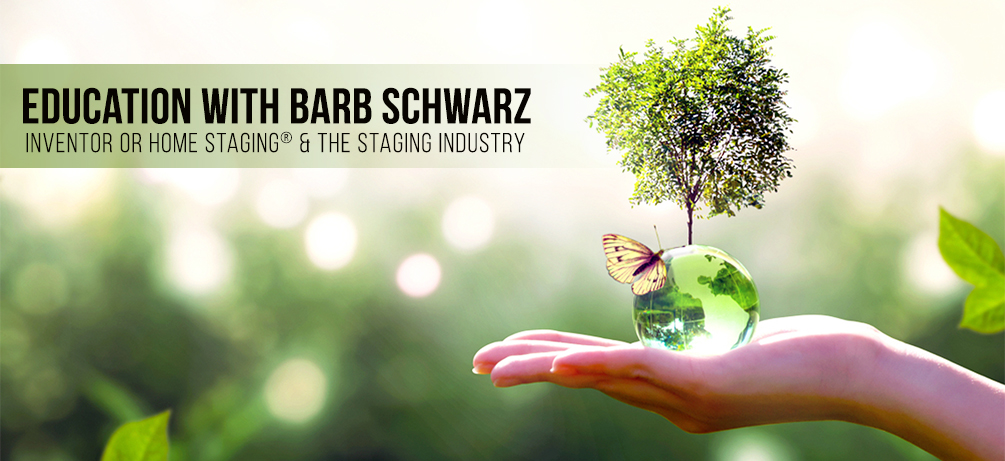 Education with Barb Schwarz
SUBSCRIBE TODAY AND RECEIVE AN ADDITIONAL 10% SAVINGS FOR YOUR YEARLY PAID SUBSCRIPTIONS
CODE 10NOW
BARB IS EXTREMELY EXCITED TO RELEASE HER EDUCATIONAL RECORDINGS
OF #1 and #3 BELOW SOON AT THE END OF JUNE!
ALL SUBSCRIPTION MEMBERSHIPS COME WITH BARB'S WONDERFUL NETWORK NEWSLETTER,
The Latest in Staging News, Staging Ideas, Featured Stager Articles, Education, Inspiration & so much more with Barb!
1. Subscription: BARB-TIME
"BARB-TIME" Weekly Wisdom W/Barb Video Broadcast
'Barb's Ah Ha's, Philosophy, Ideas, Concepts will Wake Up Your Mind, Reach Your Soul, Build Your Inner Intelligence with Her 5+ Minute Business & Life Insights Weekly!
Your weekly 'BARB -TIME' will change your business and your life. Barb Schwarz will move you forward, help you solve challenges, feel new again and much more with Her innovative thoughts, stimulating messages, and knowledge filled wisdom in an Inspirational style all in a quick format for you to listen to her recordings any time you desire as many times as you like! Remember your monthly subscription is an investment in YOU and less than a cup of 'Star-Bucks' each week.
You simply Won't Hear or Learn what Barb Shares with You Anywhere Else.
Subscribe to Your 'BARB -TIME' Now'!
You Save $47 with a Yearly subscription over monthly
$199/year
2. Subscription: Business Directory Listing and Chatroom On The Barb Schwarz Network
* Your Own Directory Listing On The Barb Schwarz Network
With Your Subscription you are now a Member of Barbs' Home Staging Network as You Become Featured in Barb's Network Directory. You will Join the Network of Professional Home Stagers, RE Brokers, and Industry Professional from all over the World. And The Search Results for Barb as the Inventor of Home Staging and the Staging Industry can also benefit You and Your network too.
* Your Chatroom On The Barb Schwarz Network
A Private Directory Chat Room and Place for You and Your Business to Collaborate with other members efficiently with Secure Direct Instant Messaging.
3. The Full Educational Subscription
YOUR YEARLY EDUCATIONAL SUBSCRIPTION INCLUDES:
BARB-TIME
Your Directory Listing
Your Chat Room
The 'Certified Staging Communication Specialist' Course
Your CSCS Designation
And, Recorded and Presented by Barb Schwarz…..
You Can Learn at Your Own Pace, in Your Own Time!
Communication is Everything! It is Crucial to All You do! Communication is in all Your Work, constantly in Your Family relations, and totally in Your relationship with YOU. Communication never stops, it goes on all day long everywhere you are. I have answers for you of how to Communicate at a higher level no matter who you are with, in learning Better Communication Skills which totally Improve Your Work, Your Business and Your Life! And now, you can learn at your own pace and earn your CSCS Designation in addition to all the knowledge you will Gain.
Barb
Barb will be offering and presenting Additional Courses for You in the future as an 'Education with Barb' Subscriber!