SIHLOUETTES OF SUCCESS

BARB SCHWARZ | EPISODE 97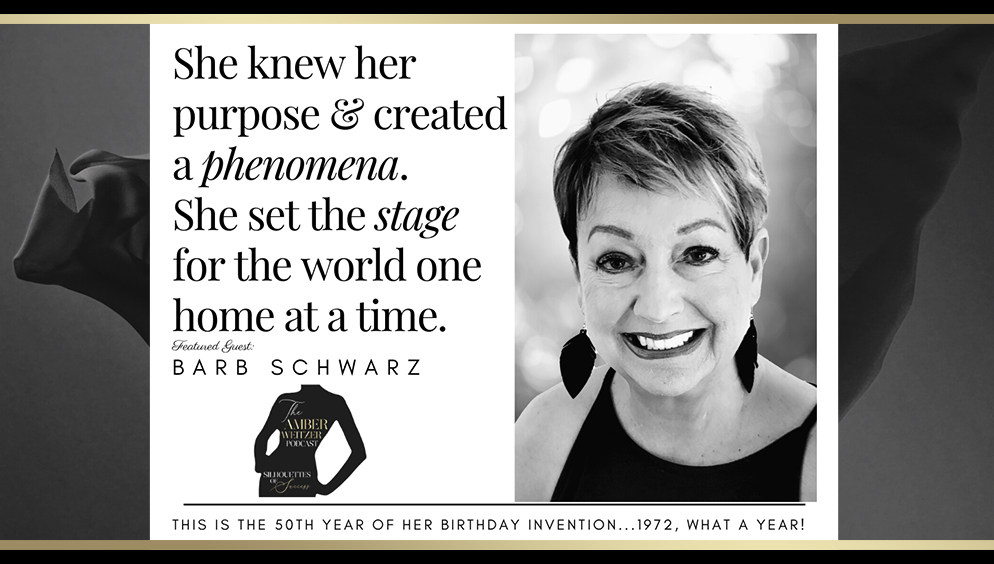 CLICK BELOW TO LISTEN TO THE AMBER WEITZER INTERVIEW WITH BARB SCHWARZ
FEATURED GUEST
Our V.I.P. Featured Guest is The Inventor of Home Staging and is internationally known around the world for creating and building the staging industry from the ground up.  Barb's creative, intensive, inspirational hard work changed the real estate industry forever with her invention of home staging!
Barb Schwarz has taught over 37,150 hours of Home Staging education in over 3,790 full day seminars and personally taught more than 1,475,000 people in her live seminar classes. 
Barb says that Yahoo reports to her that over 4,100,000,000 Searches are currently done for information about Barb Schwarz every single month with billions of search returns daily
CONVERSATION HIGHLIGHTS
Birthday Gift: Barb shares with us the original story of how, when, and why she invented home staging. Wow! Barb says it was a birthday gift from God truly. She shares the meaning behind the words, organic strategy she used that are now so prevalent in our daily conversations with all thing's real estate, decorating and just about any realm of life. What a gift God gave Barb and then passed on to all of us! And in fact, this is her 50th Anniversary of inventing HOME STAGING plus she declared a Worldwide Staging Day on January 9th…nothing stops her! Creativity is such a gift, Barb shares that is in all of us…tune into her reasoning, it's beautiful.
Words: Words have meaning! Barb explains her passion for importance of communication and the meaning of the words we use. Barb's observations became intensified while listening to the doctor and nurses' vocabulary throughout the journey of her daughter's accident. She also ties some recollections back to her Grandfather's humble, high ethics and sound example as well. This is yet another gift that Barb is grateful for. She has created a new Communications course, with a glorious website filled with value and offerings that she is very excited about sharing with the world.
Love: Barb shares why she says that "staging is love". She breaks down the science of her art! It might seem like just colors on the wall, less is more, removal of clutter but in reality the spectrum of helping others is so much deeper than most can fathom. Colors impact of emotions, clutter create anxiousness…it goes on and on and on. Barb shares how much she loves this planet and wants to care for it. She shares the genuine desire to be kind and good to each other as humans. She firmly believes that we are here to learn how to love each other and ourselves. Home is where the heart is. The heart of the home, sometimes that heart isn't doing so well. Environment is monumental. Her mission is to stage the world